Enter a Gaming Paradise with Zolaz's Cloud Gaming Subscription
With the abundance of enticing games in the market, the constant struggle to limit your choices due to budget constraints has plagued gamers for ages. But what if you could break free from this dilemma and explore a limitless gaming paradise? With Zolaz's cloud gaming subscription plan, you can turn this dream into a remarkable reality.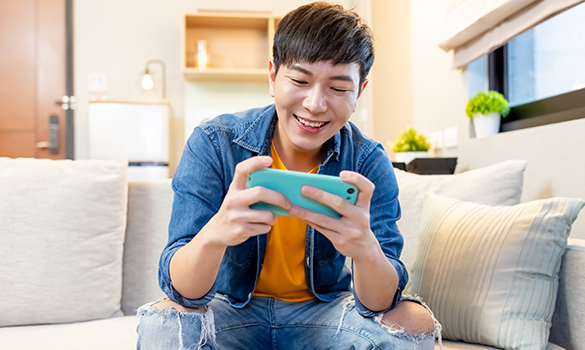 Perks of Zolaz's Mobile Gaming Subscription
Affordable Gaming Bliss on Your Terms
Imagine having access to an array of outstanding games, all bundled together at one affordable flat fee. That is unparalleled flexibility and control over your gaming journey afforded by Zolaz's gaming subscription services.
When you join us as first-time subscribers, you can experience our electrifying subscription-based mobile games for free during the first month. Thereafter, you can continue the adventure for just a nominal fee enabling you to keep your gaming thrills alive without breaking the bank.
But that's not all—
Zolaz's cloud gaming subscription
plan puts you in charge. With the freedom to cancel the plan anytime, you can easily tailor your gaming experience to fit your evolving needs. It's the ultimate plan that empowers you to curate your own gaming paradise.
Endless Entertainment for All
As a service hosted on the cloud, the gaming subscription plan gives you access to our extensive
game library
of over 550 high-quality titles across diverse genres at your fingertips. From popular options like
Overcooked
and
Asphalt 9
to the latest games added weekly, you can be confident that you'll never run out of things to explore on Zolaz.
Plus, Zolaz enables you to create up to five user profiles, ensuring everyone in your family finds their perfect gaming groove. With the added benefit of a
parental control feature
, you can enjoy peace of mind knowing that your little ones are restricted to safe and age-appropriate gaming content.
Seamless Gaming Experience
There's nothing worse than being interrupted at the best part of your game. And with Zolaz, you can free yourself from this concern. Whether you're gaming on your mobile phone or your pc, our cloud gaming service stores your gaming data over the Internet. This means you can seamlessly switch between devices, be it MacOS (web app for mac users), Windows, iOS (web app for iOS users) or Android, enabling you to keep the excitement flowing for hours on end.
As a cherry on top, without having to buy and store games helps you save money on acquiring extra storage space. At the same time, you maintain access to an ever-expanding collection of games, providing the ultimate gaming experience.
Unlock a New Realm of Gaming Experience with Zolaz
Don't miss out on the opportunity to embark on a gaming journey like no other, filled with endless possibilities and unparalleled convenience made possible by Zolaz's cloud gaming subscription plan. Join our ever-growing community of gaming enthusiasts and sign up for
Zolaz
now to start exploring subscription-based mobile
fighting games
,
strategy games
,
family games
,
simulation games
and more.