Racing Games
Browse the best PC, Mac and mobile racing games available on Zolaz cloud gaming platform.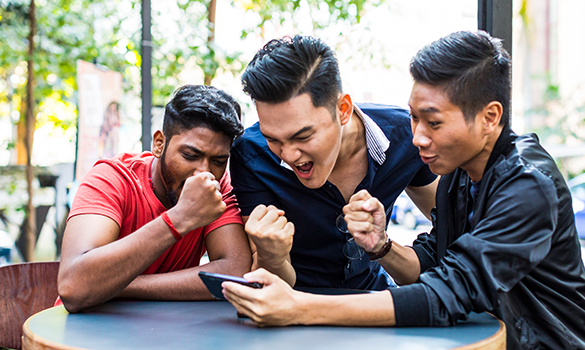 Zolaz Cloud Gaming: Your Pit Stop for Premium Racing Games
Welcome to Zolaz, your warp-speed gateway to a thrilling universe teeming with top-tier racing games. At the crossroads of Singapore's gaming landscape, Zolaz is the ultimate pit stop for racing game enthusiasts who thrive on the intoxicating blend of speed, strategy, and the exhilarating rush of claiming the chequered flag. Our advanced cloud is ready to provide you with all the best racing games for android, iOS (web app for iOS users) and PC platforms.
So, strap in and get ready to start your engines. It's time to embrace the racing world like never before!
Gain Access to a Diverse Collection of Racing Games
Accelerate into the world of high-speed action offered by Zolaz's extensive selection of the best racing games for PC, Mac and mobile. Our expertly curated
cloud video game
library caters to every kind of racing enthusiast. Whether you're a fan of intense street racing or prefer the exhilaration of an off-road adventure, our ever-expanding roster of racing games is tailored to cater to every player's need for speed. And if you'd like to share and amplify the excitement, our local multiplayer
racing games
will give you the perfect avenue for friendly competition. Organise a gaming night with your friends or make the next family gathering extra fun by transforming your living room into a thrilling grand prix! With Zolaz, you can share the electrifying energy of the race track right into your living room, creating an epicentre of racing rivalry in your very own space.
Cross-Platform Racing Game Sessions
At Zolaz, we believe in breaking down barriers, and that includes expanding the limits of your gaming experiences. Whether you own an Android or iOS device (via web app), tablet, or PC, Zolaz makes the best racing games available at your fingertips. All you need to do is connect to our cloud server, and you're ready to dive in.
Experience seamless transitions in your racing game across all your devices. Begin a nerve-racking race on your Android phone during your commute and pick up where you left off on your home PC. Alternatively, challenge your friends or siblings to a local multiplayer race on your tablet during a weekend get-together.
Zolaz
brings a universe of racing games to any device you own, offering a unique blend of convenience, variety, and high-octane fun. Invigorate your senses and accelerate into a world of cross-platform racing action with us.
Subscribe to Zolaz for the Ultimate Racing Game Experience
With Zolaz's cloud
gaming subscription services
, you gain exclusive access to an ever-growing library of top-rated racing games. Say goodbye to purchasing individual games for each of your devices. Our streaming service guarantees high-quality graphics and smooth gameplay on all your devices without needing installations.
So, why wait? Take a leap and experience the thrill of the best PC, Mac (via web app for mac users) and mobile racing games anytime and anywhere you desire. Enjoy the adrenaline rush of speed and conquer the racing circuits by subscribing to Zolaz's cloud gaming services today! And when you're in the mood for a different gaming experience, our expansive cloud library also features an exciting array of game genres, including fighting games,
strategy games
,
action adventure games
, and more.
Get ready to explore a world of endless gaming possibilities at Zolaz!