Games for Kids
Discover the ultimate gaming destination for kids at Zolaz Cloud Gaming! Browse through our collection of the best video games for kids.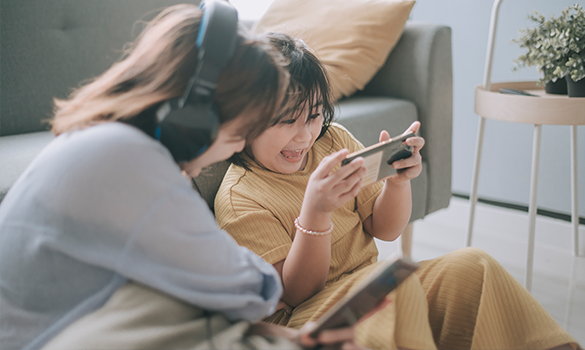 Endless Fun and Games for Kids of All Ages
Looking for the best PC video games to conquer your kids' boredom? Zolaz has got you covered with our fantastic selection of free online games for kids. Whether your child is a budding explorer, a creative mastermind, or a sports enthusiast, we have something for everyone! Affordable subscriptions, a limitless library of
online games for kids
, and buttery-smooth streaming ensure your little gamers embark on endless adventures and explore imaginative worlds.
No More Expensive Consoles or Gaming PCs
Want to dodge the hefty price tags that come with consoles and gaming rigs? With our extensive lineup of computer games for kids, you can access the best gaming experience – no fancy hardware required. Say goodbye to costly purchases and hello to unlimited fun for your kids!
Just a Click to Enter a Galaxy of Gaming
Playing games has never been easier. With Zolaz, all it takes is one click, and your kids will be transported to a world of adventure, excitement, and imagination. Our streaming service lets your little gamers dive into their favourite computer games right away on any device – PC, Mac (web app for mac users), iPhone (web app for iOs users), iPad, or Android device, we support them all.
A Growing Library of Games for Kids
Zolaz continuously curates and expands our game library to ensure that there is always something new and exciting for your kids to discover. We have everything from brain-boosting educational games that enhance their learning to heart-pounding adventures. With new online games added every month, your kids will never run out of free entertainment options.
Streamed Games for a Seamless Experience
Forget about slow downloads and storage woes. At Zolaz, all our games are streamed directly from our cloud server in Singapore. That means zero installation or updates on your end, just uninterrupted, hassle-free gaming for your kids.
Safe and Kid-Friendly Gaming
We're not just about fun. We're about safe fun. Zolaz ensures that all the games are suitable for kids. We've crafted a virtual space where kids can explore and engage safely, and where parents can rest easy knowing their tiny gamers are in good hands.
Pocket-Friendly Monthly Subscription
Instead of buying individual copies of games for each device, Zolaz offers a convenient monthly subscription that allows you to have full access to our entire library of some of the best video games appropriate for kids. It's a cost-effective solution that gives your kids instant access to a wide variety of games on their PC.
Start Your Subscription Today!
Join the Zolaz community and unlock a universe of joy for your kids. With our affordable
mobile gaming subscription
plans, never-ending collection of
cloud video games
and seamless streaming experience, Zolaz is the ultimate destination for gaming fun. Set them off on roller coaster quests, unleash their inner genius, and learn through play. Visit our website now and start your kids' gaming journey with Zolaz!