Explore Popular Cloud Video Games on Zolaz
Who said that games are an exclusive pastime for the young? With Zolaz's cloud video game platform, you're in for an exciting multiplayer experience that bridges the generation gap. With options ranging from popular crowd-pleasers like
Overcooked
to
exciting adventures
and mind-boggling
puzzle games
, there's something for everyone to enjoy.
Whether you're playing with grandparents, siblings, or friends, Zolaz promises a wild ride filled with laughter and unforgettable moments that ignite the spark of excitement in your gaming sessions like never before.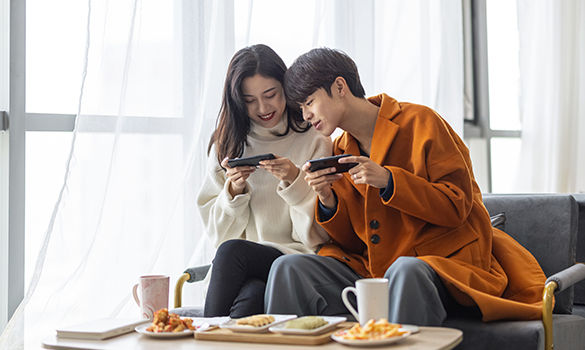 Diverse Multiplayer Video Games in One Cloud Library
Transform any gathering into an epic game night with Zolaz, where an extensive
library of curated multiplayer video games
awaits you. Planning for a boy's night out? Join forces with your crew in a
strategy-RPG game
, or experience heart-pounding action with one of our adrenaline-fueled
fighting games
designed to keep even the most seasoned gamers on the edge of their seats.
Alternatively, engage in a friendly match in our thrilling
sports games
to create moments of triumph or camaraderie with your loved ones. For those seeking options suitable for children and elders alike, explore our
family games
where you can bond as you conquer challenges side by side. Above all, you'll never have to worry about getting bored, for new games are added weekly, ensuring limitless fun for all.
Uninterrupted Gaming with Cross-Platform Games
Whether at home or on the go, gaming is always within reach with
Zolaz
. Bid farewell to the days of compatibility issues and embrace gaming bliss with our video games platform. Simply grab any of your mobile devices and link up with our cloud to enjoy a treasure trove of over 550
video games
delivered without a hitch cross-platform. Above all, you no longer have to wait for downloads and can free up valuable device storage space with these incredible games hosted on Zolaz's servers. Through this, you can easily jump straight into those captivating games and rediscover the joy of gaming without limits.
Join the Zolaz Cloud Video Game Community
Experience the thrill of multiplayer gaming like never before. It's as simple as signing up for our cloud gaming services for an
affordable fee
, and you can unlock exclusive access to the latest and most popular video games on your preferred devices, from MacOS to Windows, Android and iOS.
And fear not if each member in your household has a different preference for games, as our cloud gaming subscription also grants you the right to create five accounts so everyone has a profile tailored to their needs. For parents, rest assured that your little ones can game safety with a child-only account (which is one of our
platform features
), thus you can enjoy complete peace of mind knowing that your little ones can game safely with us.
Don't miss out on the chance to immerse yourself in epic adventures, forge stronger connections, and unleash your competitive spirit.
Sign up for Zolaz
to kickstart your revolutionary gaming experience!